Four Day Walk Kayak Combo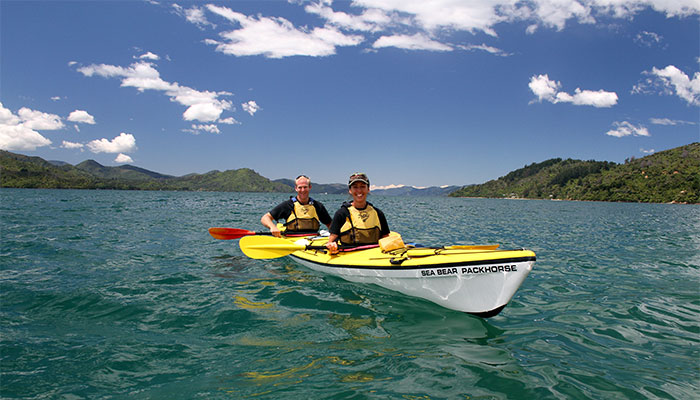 기간: 4 일 (대략)
위치: Marlborough Sounds, New Zealand
상품 코드: 4DWKC
Combine the Queen Charlotte Track with a three day unguided walk and on the fourth day a guided sea kayak adventure returning back to Picton in the afternoon.
Includes upmarket accommodation (en suite, private rooms) daily luggage transfers, all water taxi transfers, a visit to a bird sanctuary island, daily packed lunches and a full information kit. We will even pick you up from you accommodation in Picton and take you back there when you return on the last day.
The accommodation is in Studio suites at Furneaux Lodge and private en suite rooms at Punga Cove and Lochmara Lodge.
Your lunch is included every day and evening meals and breakfasts can be purchased from the restaurants at the lodges.

DAY 1 - Picton - Ships Cove to Furneaux Lodge
Approx walking time- 14.5Km's - 5 hours
Pick up from local accommodation.
Boat cruise from Picton- A full commentary is given as you make your way along the Queen Charlotte Sound, before stopping to visit a protected, predator free island to see rare saddleback birds.
Begin the walk at Ships Cove and learn about the historical and natural aspects of this area.
Fabulous 360 degree vistas as you walk amongst tree ferns and Nikau palms to your accommodation for this evening at Furneaux Lodge, an historic lodge that has been greeting guests for many years. Studio suite accommodation.

DAY 2 - Furneaux Lodge to Punga Cove Resort
Approx walking time- 11.5Km's - 4.5 hours
After a relaxed breakfast you make your way around Endeavor Inlet to Punga Cove Resort.
Discover the fascinating antimony mining history of this area.
The highlight of this afternoons walk is the abundance of native bird life along this section of the track. You may even have the opportunity to meet one of New Zealand's cheekiest native birds, the Weka.
Enjoy a drink at the Boatshed Bar on arrival or maybe a relaxing soak in the Lodge's hot tub.

DAY 3 - Punga Cove Resort to Lochmara Lodge via Torea Bay
Approx walking time- 23Km's - 7.5 hours
Todays section of the track involves expansive ridge top walking with stunning views for the majority of the day. Considered the most challenging day of the trip yet extremely well rewarding..
Tucked beside the water's edge in Lochmara Bay, the Lodge has its own sandy beach and is surrounded by the bush clad hills of the Marlborough Sounds. Unique and breathtakingly beautiful, Lochmara Lodge offers a total experience. Well-appointed rooms all with sea views this is the perfect place to enjoy your last night on the track. Guests walk 23km's on this day to Torea/Portage Bay and then get a scheduled water taxi (included in package) around to Lochmara Lodge arriving around 4.30pm. There is the option of going by water taxi (extra cost) from lodge to lodge if guests wish to if they do choose not to walk this section.

DAY 4 - Sea Kayaking - Lochmara Lodge to Picton
Your sea kayak guide will meet you at Lochmara Lodge in the morning and after a detailed safety briefing head out of the bay and into the tranquil waters of Queen Charlotte Sound.
There is a good chance of seeing sting rays and eagle rays, a large variety of sea birds including cormorants and sometimes little blue penguins, seals, starfish and if we are really lucky, you may even see dolphins.
Returning back to Picton in the afternoon you will be then transferred back to your accommodation.
​
Includes:
Picton accommodation transfers
Visit a bird sanctuary Island
All water taxi transport
Daily luggage transfers
All accommodation - en suite bathrooms, private balconies
Packed lunches
Information pack plus map
One day guided sea kayaking with Wilderness Guides
​
Accommodation
Furneaux Lodge – Suite, Punga Cove Resort - Private room, Lochmara Lodge – Chalet.